MOBILE BANKING
Bank on BETTER convenience with Mobile Banking. Access your accounts from your mobile device anytime, anywhere. Mobile Banking offers three ways for you to stay connected.
Mobile App - Download our App to your mobile device (iPhone/iPad, BlackBerry, Android)
Mobile Browser - Nothing to download, just bookmark the site from any mobile device connected to the internet
SMS/Text Message - Send a text and receive account information (For all phones that offer text messaging)
SEE HOW THESE THREE OPTIONS WORK >>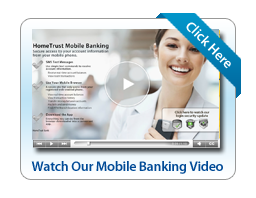 Mobile Deposits
With the HomeTrust Bank Mobile App, you can deposit checks directly to your account by snapping a photo with your mobile device. It's secure, easy and free*!
Once your account is open for 30 days, look for the Deposits tab in your Mobile App.
The daily deposit limit is $2500. Whether you deposit 1 check or multiple items, the maximum is $2500 total.
If the deposit is made by 7:00 pm, the first $200 will be available the next business day. All remaining funds will be available in 2 business days. Checks written from a HomeTrust Banking Partnership account will have all funds available the next business day.
Learn more about Mobile Deposits.
*Standard data and messaging rates may apply. Deposits may not be available for immediate withdrawal.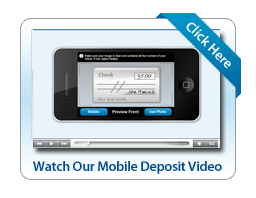 Getting Started
When you register for Mobile Banking through Online Banking, you can choose which Mobile Services to use and which of your accounts you want to access.
During registration, we will send a text message with a unique activation code to verify the phone number. Enter the activation code to successfully register your phone. You will receive text messages to enroll in the applicable Mobile Banking services, based on which services you select.
Sign up for Online Banking now >>

QUESTIONS?
• READ OUR FAQS (FREQUENTLY ASKED QUESTIONS) >>
• Call 855.202.0020
• Or Email Support >>